| | |
| --- | --- |
| | |
| Honda Ridgeline | Toyota Tacoma |
Features and Capabilities of Popular Midsize Trucks: The 2021 Honda Ridgeline vs the 2021 Toyota Tacoma
Trucks offer capabilities that ordinary cars and SUVs don't, which is why we are excited to help you get into one you will love for years to come. The 2021 Honda Ridgeline is a top choice for many drivers, allowing you to enjoy the time you spend in the driver's seat. Our experts want to give you a closer look at everything this truck can come with, allowing you to feel confident whenever you're driving. We look forward to answering your questions and showing you how the 2021 Honda Ridgeline could be your next vehicle.
We encourage you to reach out to our experts so that you can see what makes a 2021 Honda Ridgeline or 2021 Toyota Tacoma the model you want in your driveway. After reading our comparison, you can reach out to our team to have any questions answered, allowing you to be completely sure of the truck you add to your life.
This comparison looks at the top traits of each midsize truck, making it clear that you'll have the capabilities you need for every adventure and errand.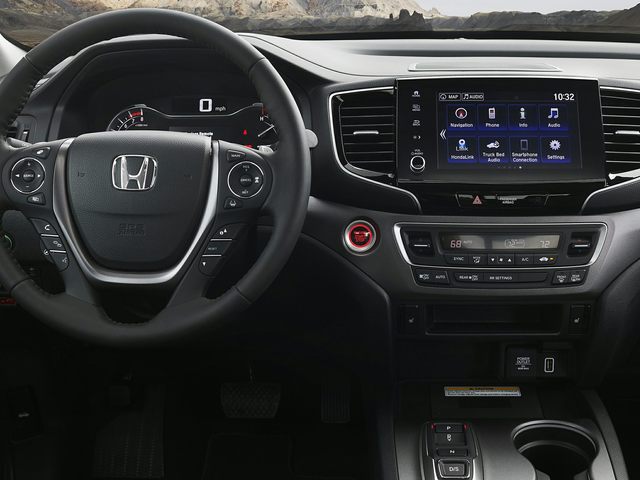 2021 Honda Ridgeline vs 2021 Toyota Tacoma
When you are looking for a more powerful base engine, the 2021 Honda Ridgeline is a better choice than the 2021 Toyota Tacoma.
 
Every 2021 Honda Ridgeline comes equipped with a nine-speed automatic transmission, and the 2021 Toyota Tacoma only has a six-speed automatic transmission.
 
The 2021 Honda Ridgeline can be equipped with either front-wheel drive or all-wheel drive, but you can only have rear-wheel drive or 4WDemand part-time 4WD on the 2021 Toyota Tacoma.
 
The 2021 Toyota Tacoma needs to be upgraded to have an eight-inch infotainment screen, while the 2021 Honda Ridgeline is equipped on every trim level.
  
Android Auto™ and Apple CarPlay® keep you connected to the media and apps you need for every drive, adding some entertainment to even the most boring commute.
 
The 2021 Honda Ridgeline has a truck-bed audio system available, something that you can't find available for the 2021 Toyota Tacoma.
With many safety features to keep you feeling confident, both the 2021 Honda Ridgeline and 2021 Toyota Tacoma can tackle any busy road or highway in front of you.
When you are looking for more rear legroom, the 2021 Honda Ridgeline should be your choice over the 2021 Toyota Tacoma, allowing your passengers to have more space during every adventure.
The 2021 Honda Ridgeline comes standard with LED headlights, which is a feature that you must upgrade the 2021 Toyota Tacoma to come with.
A dual-action tailgate in the 2021 Honda Ridgeline makes loading and accessing the bed easier than competitors, like the 2021 Toyota Tacoma, that doesn't have the same feature.